Dec 15, 2021
Paleo Cookie Dough Truffle Cake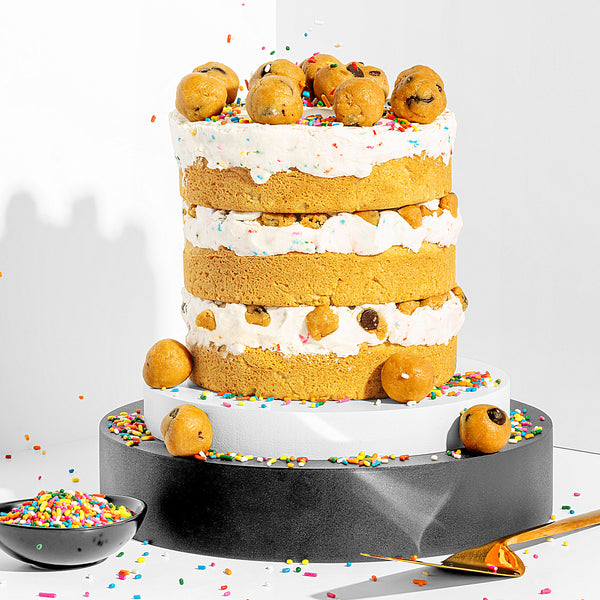 Ingredients
For the vanilla cake:

3¾ cups paleo baking flour mix 

¾ teaspoon baking soda 

¼ teaspoon fine sea salt 

6 large eggs, room temperature 

¾ cup coconut oil, melted & slightly cooled 

¾ cup maple syrup 

1½ tablespoons pure vanilla extract 

For the vanilla frosting:

1 cup (2 sticks) unsalted vegan butter, softened (Miyoko's or Earth Balance work well)

1 teaspoon pure vanilla extract

¼ teaspoon fine sea salt 

16 ounces powdered sugar, sifted 

2-3 tablespoons full fat coconut milk 

½ cup sprinkles, plus more for topping
Instructions
Bake the cake: 

Preheat oven to 325 F. Spray three 6-inch cake pans with cooking spray and line the bases with parchment paper. Set aside. 

In a medium mixing bowl whisk together the paleo flour, baking soda, and salt. Set aside. 

In a small mixing bowl whisk together eggs, coconut oil, maple syrup, and vanilla. 

Using a spatula, fold the wet mixture into the dry ingredients (it will be a thicker consistency). 

Evenly divide the batter between the prepared pans. Bake until the edges are golden and a toothpick inserted in the center comes out clean, 30-35 minutes. 

Remove from the oven and let cool for 10 minutes. Work carefully to remove cakes from pans. Discard parchment paper and let cool completely on a wire cooling rack. 

Make the vanilla frosting: 

In the bowl of a stand mixer fitted with the paddle attachment add butter, vanilla, and salt. Turn mixer to high speed and beat until light and fluffy, about 2 minutes. 

Turn mixer to low. Slowly add the powdered sugar a cup at a time. Once combined, add 2 tablespoons of coconut milk. Increase speed to high and mix until light and fluffy, about 5 minutes. 

If frosting is too thick, add coconut milk a tablespoon at a time until desired consistency is reached. 

Fold in sprinkles. 

When ready to assemble, place the base cake layer on a plate or cake turntable. Add roughly 1 cup frosting and spread in an even layer. Top with cookie dough crumbles. Place the second cake layer on top. Repeat process. 

Finish with the last cake layer. Coat the top with remaining frosting.

Roll remaining cookie dough into balls and place on the top layer. Sprinkle additional sprinkles on top. Slice and serve. 
Kids Can Do
Whisk the dry ingredients

Whisk the wet ingredients

Help spread the frosting