Oct 15, 2020
Paleo & Dairy Free Pumpkin Sauce Pizza with Grilled Chicken and Kale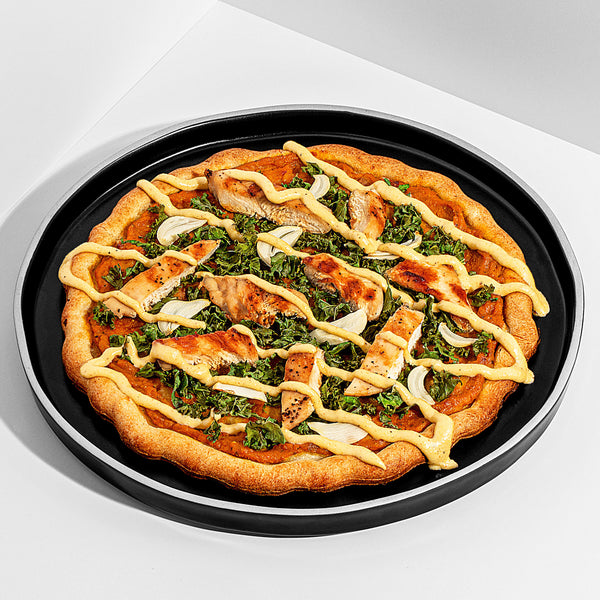 Ingredients
1/2 cup pumpkin puree
1/4 teaspoon sea salt
1/4 teaspoon black pepper
1/8 teaspoon smoked paprika
1/8 teaspoon red pepper flakes
1/8 teaspoon ground cinnamon
1/3 cup chopped kale, stems removed
1 skinless chicken breast, grilled and sliced
1/4 teaspoon fresh rosemary, minced
1 large clove garlic, thinly sliced
1/4 cup cashews, soaked in 1/2 cup water for at least 30 minutes
3 tablespoons olive oil
3 tablespoons almond milk (we love Malk)
2 tablespoons vegan yogurt
1 tablespoon nutritional yeast
1/4 teaspoon cayenne pepper
1/4 teaspoon ground cinnamon
1/4 teaspoon salt
Instructions
Preheat the oven to 425°F.
In a small mixing bowl add the pumpkin puree, salt, black pepper, paprika, red pepper, and cinnamon. Stir to combine.
To assemble the pizza, spread the pumpkin mixture over the base of the crust.
Layer the chicken breast, kale, garlic, and rosemary over the top.
Transfer to the oven and bake for 11-13 minutes, or until the crust is golden brown.
While the pizza is cooking, make the sauce. Drain the cashews then add to the bowl of a small food processor along with the remaining ingredients for the sauce. Puree until smooth, adjusting seasoning as needed.
Remove pizza from the oven and drizzle the sauce over the top. Serve immediately.
Kids Can Do
Mix the pumpkin sauce ingredients.
Assemble the ingredients
Drizzle the sauce