Feb 02, 2017
Paleo Marsala Mushroom Ravioli with Parsley Cream by Between Two Forks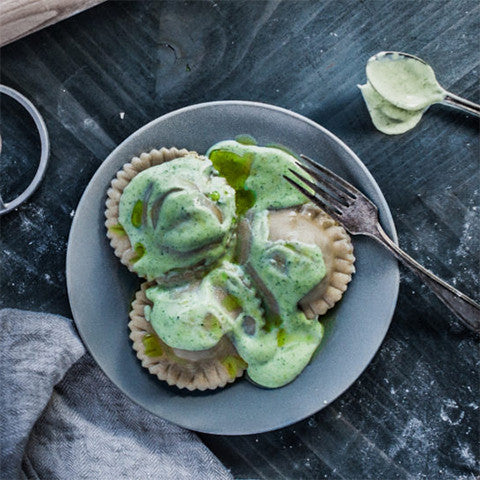 Ingredients
1 package Cappello's Lasagna Sheets
Ravioli Filling:
1 cup cremini mushrooms, diced
2 shallots, diced
5 cloves garlic, minced
1 teaspoon fresh sage, minced
½ teaspoon fresh thyme leaves
2 tablespoons fresh flat leaf parsley, chopped
¼ teaspoon freshly grated nutmeg
2 tablespoons Kite Hill Almond Ricotta
2 tablespoons grated grass-fed Parmesan (optional)
1½ tablespoons marsala wine
½ teaspoon Kosher salt
¼ teaspoon fresh crushed black peppercorn
¼ teaspoon fresh crushed green peppercorn
1 pasture raised egg
Parsley Cream:
¼ cup Kite Hill Almond Ricotta
2 tablespoons Gold Nugget Ghee, warmed
2 tablespoons Kasandrinos EVOO
3 cloves garlic, minced
2 tablespoons flat leaf parsley, finely chopped
½ teaspoon Red Bob's Xanthan Gum
½ teaspoon crushed black pepper
Salt, to taste
Instructions
Make the filing. In a skillet over medium-high heat, drizzle olive oil and some Grass-fed butter if you like. Cook shallots and garlic until slightly brown. Add in mushrooms, thyme, sage, marsala wine, nutmeg, salt and pepper.
Cook the filling until mushrooms start to slightly brown. Remove from heat into a mixing bowl. Add in fresh parsley, ricotta, Parmesan cheese and fold together with a bowl scraper.
In a bowl, mix your 1 egg with 1 tbsp of water to create an egg wash.
Unroll your Cappello's Lasagna Sheets on your silicone mat. Use your Ravioli cutter to map out where each ravioli is by making a light indention on the pasta sheet.
Use a measuring spoon, scoop 1 tbsp of filling onto the center of each Ravioli. Brush the sides with egg wash and lay the second sheet over it. Minimize the air pocket on the ravioli. If the edges are not sticking, use a fork to press it down. The assembly of the Marsala Mushroom Ravioli is pretty easy.
Before Cooking the Marsala Mushroom Ravioli with Parsley Cream, let's make the sauce. In a sauce pan over medium heat, cook the garlic until golden brown. Put everything in a tall cup and mix with an immersion blender. Return the mixture to the sauce pan, and cook until it is heated. The reason for the xanthan gum is because it acts as an emulsifier. If you prefer another form of emulsification, feel free to experiment.
In a pot/wok, heat up enough water (toss a tbsp or two of Salt in it) and cook the Ravioli as directed per Cappello's instruction.
Once cooked, serve with previously made Parsley Cream with a healthy drizzle of EVOO. There you have it, my Paleo Marsala Mushroom Ravioli with Parsley Cream. Until next time, eat up my friends!
Additional Info