Jul 11, 2021
Pasta e Fagioli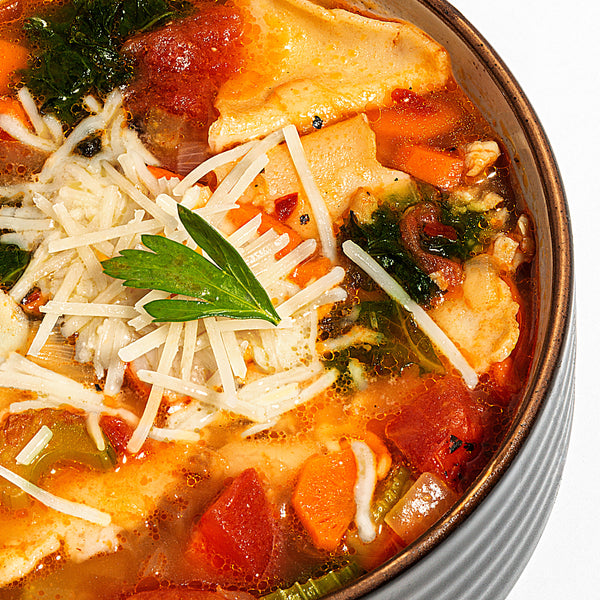 Ingredients
1/2 pound Italian sausage

2 tablespoons olive oil 

1 medium yellow onion, diced 

2 medium carrots, diced 

2 celery stalks, diced 

3 cloves garlic, minced

1 teaspoon kosher salt

1/2 teaspoon ground black pepper 

1/4 teaspoon red pepper flakes 

2 15-ounce cans of great northern beans

1 15-ounce can diced tomatoes

1 cup kale, ribs and stems removed and chopped 

5-6 cups vegetable or chicken broth 

1 bay leaf 

parmesan, for finishing 

fresh parsley, for finishing 
Instructions
Heat oil in a dutch oven or large pot placed on a stove set to medium heat. 

Add sausage and cook, breaking it up into pieces with a wooden spoon, until cooked through, about 5 minutes. 

Add onion, carrots and celery and cook until softened, about 5 minutes.

Add garlic and cook until fragrant. Add salt, black pepper and red pepper.

Stir in beans, diced tomatoes, kale, broth and bay leaf. 

Bring to a boil, then stir in lasagna pieces. Reduce heat to medium and cook until pasta is done, about 90 seconds. Taste and adjust seasoning if necessary. Remove bay leaf. 

Ladle into bowls and top with parmesan and parsley.
Kids Can Do
Help stir the soup

Add the soup toppings