Sep 26, 2021
Potstickers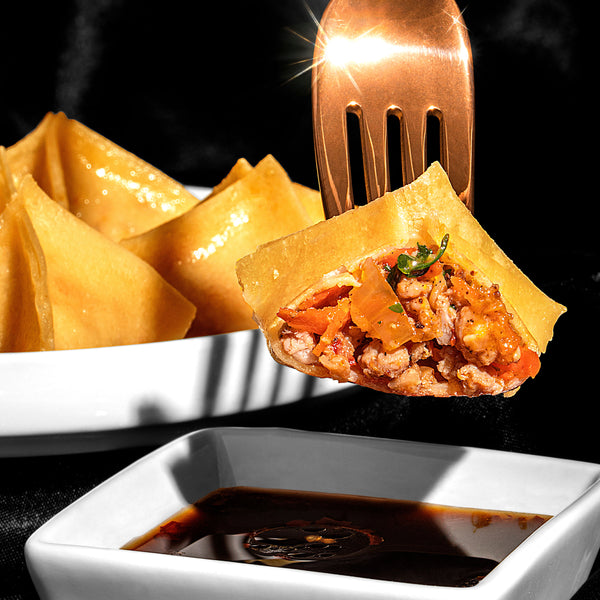 Ingredients
For the Pork Filling:

1 tablespoon palm oil

6 ounces ground pork

3/4 cup napa cabbage, shredded

1/2 cup carrots, shredded

1/4 cup white onion, minced

2 tablespoons coconut aminos 

1 tablespoon cilantro, minced

1 teaspoon fresh ginger, peeled and minced

1/4 teaspoon fresh ground black pepper

1/4 teaspoon red pepper flakes

4 tablespoons palm oil, divided

1 1/3 cup water, divided

For the Dipping Sauce:

3/4 cup coconut aminos 

2 teaspoons maple syrup 

1 teaspoon palm oil

1/2 teaspoon garlic, minced 

1/2 teaspoon fresh ginger root, peeled and minced

1/8 teaspoon red pepper flakes 
Instructions
Make the pork filling. In a medium non-stick saucepan, warm the oil on medium heat. Once warm, add the ground pork, cabbage, carrots and onions. Cook, stirring occasionally until the pork is cooked through and veggies are soft, 5-7 minutes. Add the coconut aminos, cilantro, ginger, black pepper and red pepper. Continue to cook, stirring constantly until the liquid has evaporated, 3-4 minutes. Remove the pan from the stove and pour the filling into a bowl. 

To assemble the potstickers, cut lasagna sheets into 3-inch squares (wonton wrapper size). 

Brush wrapper with water. Spoon 1 leveled tablespoon of filling onto the center of each wrapper. Fold the two ends of the wrapper together. Fold the other two ends to make a tiny parcel. Pinch to seal tight and make sure that there is no leakage.

Place the dumpling sealed side up on a baking tray lined with parchment paper. 

Place a large non-stick pan on the stove and set to medium heat. Coat the base with 2 tablespoons of oil. Once warm, add enough dumplings to fill the pan, placing them close together. Cook, undisturbed for 2-3 minutes, or until the bottoms of the dumplings are a nice golden brown.

Add 2/3 cup of water to the pan and immediately cover with the lid- be careful, it will splatter! Cook until potstickers look steamed, about 2-3 more minutes.

Repeat the frying and steaming process as needed with the remaining dumplings, oil and water. Serve the dumplings with the dipping sauce.

To make the dipping sauce, place all ingredients in a small microwave-safe bowl. Warm the mixture for 30 seconds. Whisk to combine and then serve with the dumplings.
Kids Can Do
Help mix the filling

Scoop filling onto lasagna sheets

Practice folding the shapes