Nov 07, 2021
Pumpkin Fettuccine Alfredo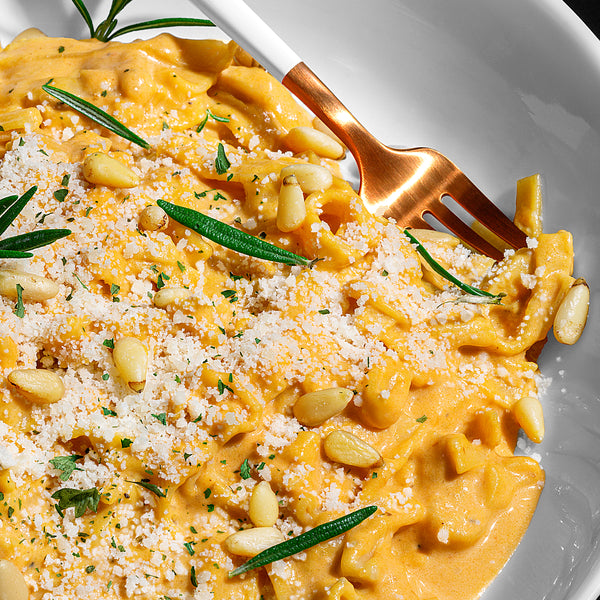 Ingredients
1 tablespoon unsalted butter 

1 large garlic clove, minced

1/2 cup pumpkin puree (canned pumpkin)

1 1/4 cups heavy whipping cream

1/2 teaspoon sea salt

1/4 teaspoon freshly ground black pepper 

1/4 cup grated parmesan cheese, plus more for topping

1/4 cup pine nuts

1 teaspoon fresh sage, chopped  

1 teaspoon fresh rosemary, chopped 

1/2 teaspoon fresh chives, snipped 
Instructions
In a medium saucepan, melt the butter over medium-low heat. 

Add the garlic; sauté until translucent. 

Add the pumpkin and heavy whipping cream, salt, and pepper. Bring to a simmer, whisking constantly. Continue to cook until sauce has slightly thickened, 3-5 minutes. 

Add the parmesan cheese and whisk to combine.

Add 1 package of fettuccine to 3-4 quarts of boiling water. Stir to separate strands.

Fettuccine will cook al dente in approximately 90 seconds.

Drain then add to the sauce and toss to coat. 

Divide among plates and top with additional parmesan, pine nuts, and fresh herbs. Serve immediately. 
Kids Can Do
Add ingredients to a saucepan

Toss the pasta in sauce 

Add the garnishes