Sep 23, 2019
Pumpkin Ravioli
If you like carving pumpkins, you'll love carving our Almond Flour Lasagna Sheets to make pumpkin ravioli. Okay, maybe we fed too much pumpkin into the algorithm. But regardless of your feelings about pumpkin carving, we think you'll fall (not a seasonal pun) for these grain-free ravioli melded with Parmesan cheese and seasoned with turmeric and thyme. Because being pumpkin doesn't mean you have to be pumpkin spice. Good words to eat by this season and every season.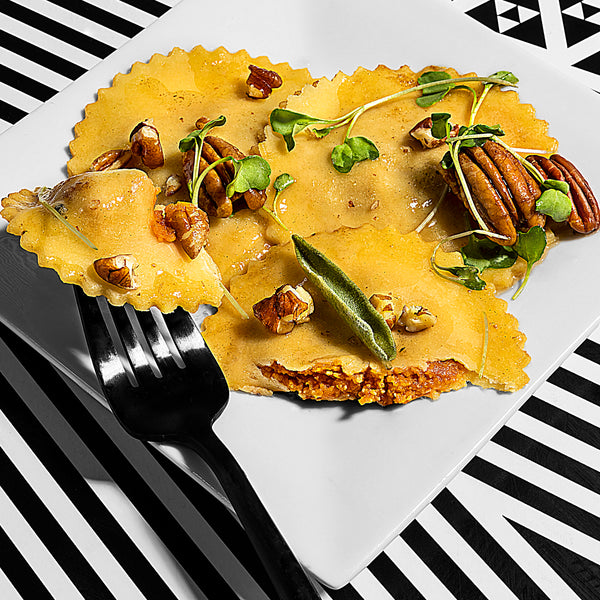 Ingredients
1 package Cappello's Lasagna Sheets, thawed if frozen
1/2 cup canned organic pumpkin
3 tablespoons grated Parmesan cheese
1/8 teaspoon sea salt
1/8 teaspoon freshly ground black pepper
1/8 teaspoon turmeric
1/4 teaspoon dried thyme
1 teaspoon salt
1/4 cup chicken bone broth
1 tablespoon ghee
2 tablespoons chopped pecans
Optional: fresh sage, microgreens
Instructions
In a medium bowl, combine pumpkin, Parmesan, salt, pepper, turmeric, and thyme. Stir well
Cut each lasagna sheet into three equal squares and brush with water to dampen.
Spoon 2 teaspoons of the pumpkin mixture into center of half of the lasagna sheet squares. Top with a second square and press down gently on edges to seal. Use a 3-inch ravioli stamp to cut and seal ravioli, or alternatively, use a fork to crimp the edges of each ravioli.
Place ravioli into a large saucepan of boiling, salted water, and cook 2 minutes. Drain and set aside.
Place bone broth and ghee in small skillet. Bring to a boil. Add pecans then ravioli, tossing to coat. Garnish with fresh sage leaves and microgreens, as desired.
Additional Info
Yield: 7-8 Ravioli
Prep time: 5 minutes
Total time: 35 minutes