Oct 07, 2019
Roasted Butternut Squash & Spinach Lasagna Skillet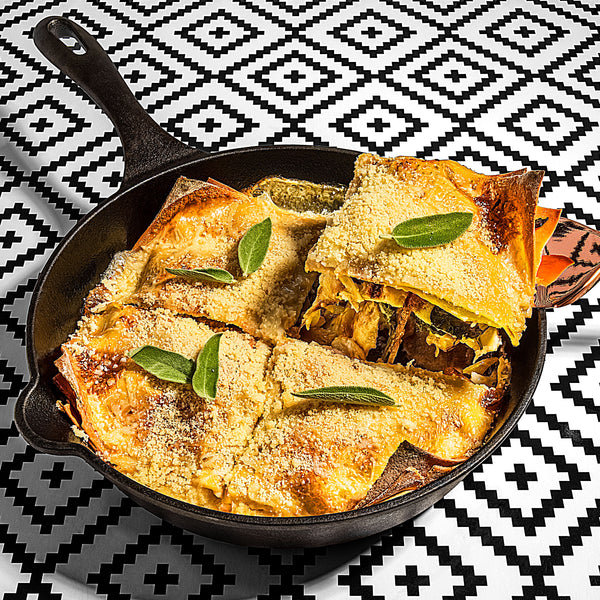 Ingredients
1 package Cappello's Lasagna Sheets
2 cups butternut squash, peeled and cubed
2 tablespoons extra-virgin olive oil, divided
1 tablespoon chopped fresh sage
5 garlic cloves, sliced
1/2 teaspoon sea salt, divided
1/4 teaspoon freshly ground black pepper
1/2 large yellow onion, sliced
1 tablespoon water
One 9-ounce package baby spinach
2 ½ cups whole milk, divided
1 bay leaf
1 thyme sprig
2 ½ tablespoons tapioca flour
¾ cup, plus 2 tablespoons shredded provolone cheese, divided
Pinch of cayenne pepper
Pinch of grated nutmeg
Optional: fresh sage leaves 
Instructions
Preheat oven to 425°F.
Combine butternut squash, olive oil, sage, garlic, ¼ teaspoon salt, and black pepper in a large bowl; toss to coat. Place in an even layer on a baking sheet lined with parchment paper. Bake 30 minutes. Use the back of a wooden spoon to slightly mash the butternut squash.
In a Dutch oven, heat remaining 1 tablespoon olive oil over medium-high heat. Add onion, and sauté for 4 to 5 minutes. Reduce heat to medium-low; continue cooking for 20 minutes or until golden brown, stirring frequently. Set aside in a separate bowl.
Add 1 tablespoon water and spinach to Dutch oven; increase heat to high. Cover and cook 2 minutes, or until spinach wilts. Drain in a colander and squeeze as much liquid from the spinach as possible. Add spinach to onion bowl.
Heat 2 ¼ cups milk, bay leaf, and thyme in a medium saucepan over medium-high heat. Bring to a boil, then remove from heat and let stand 15 minutes. Discard bay leaf and thyme. Return pan to medium heat. Combine the remaining 1/4 cup milk and tapioca flour in a small bowl. Add to pan, and whisk well. Bring to a boil, then reduce heat, and simmer for 5 minutes or until thickened, stirring constantly. Remove from heat and stir in remaining ¼ teaspoon salt, 3/4 cup cheese, cayenne pepper, and nutmeg.
Spread 1/4 cup cheese sauce in the bottom of a 12-inch cast-iron skillet (or 8-inch by 8-inch baking pan). Place 2 lasagna sheets over milk mixture, and top with half of the butternut squash mixture, half of the spinach-onion mixture, and 1/3 cup cheese sauce. Repeat layers, ending with lasagna sheets. Spread remaining cheese sauce over lasagna sheets.
Bake 30 minutes. Remove from oven and sprinkle with remaining 2 tablespoons cheese.
Broil 2 minutes or until cheese is melted and golden brown. Let stand 20 minutes before serving.
Garnish with fresh sage, as desired.
Additional Info
Yield: 4-6 servings
Prep time: 15 minutes
Total time: 2 hours