Jul 10, 2020
Spicy Tandori Chicken Grilled Pizza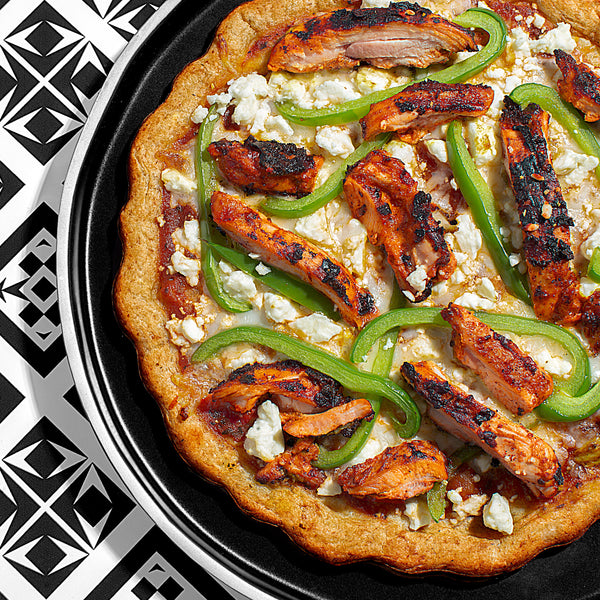 Ingredients
4 boneless skinless chicken thighs
1 teaspoon ground coriander
1 teaspoon ground cumin
1 teaspoon ground turmeric
1 teaspoon cayenne
2 teaspoon paprika
1/4 cup plain yogurt
2 tablespoons lemon juice
2 minced garlic cloves
2 tablespoons minced fresh ginger
1 teaspoon salt
1/4 cup pizza sauce
1/4 cup shredded mozzarella
1/2 cup feta cheese crumbles
1/4 green pepper, thinly sliced
Instructions
Whisk coriander, cumin, turmeric, cayenne and paprika into yogurt, add lemon juice, garlic, salt, ginger.
Coat the chicken in the marinade, cover and chill for at least an hour (preferably 6 hours), no more than 8 hours.*
Turn the grill to medium, coat the grates with oil, shake the excess coating off the chicken and cook the chicken for 5-7 minutes per side. Remove from heat and set aside.
When cool to the touch, slice the chicken into strips.
Spread the pizza sauce onto the crust and layer the toppings with mozzarella first, then 1/2 of the feta, green peppers, chicken thighs then remaining feta cheese.
Grill for 11-15 minutes or until the crust is crisp and the cheese is very melty.
*Makes enough chicken for 2 pizzas.
Kids Can Do
Mix the seasoning into the yogurt
Pour marinade over chicken
Decorate the pizza with the toppings