Jun 28, 2021
Summer Salmon Pasta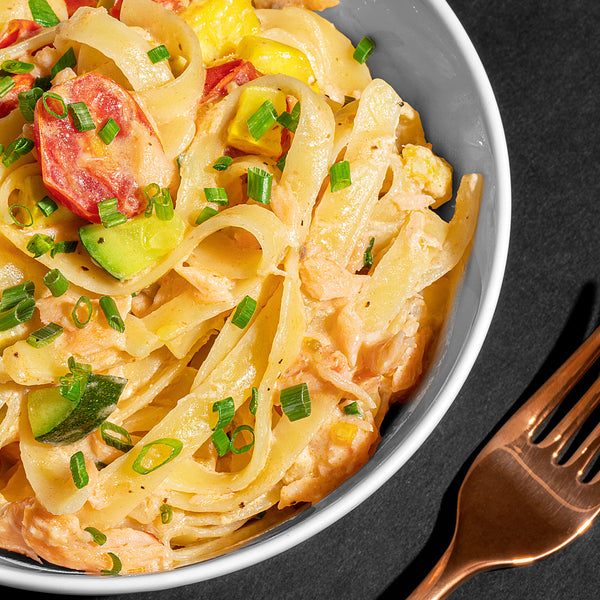 Ingredients
2 tablespoons unsalted butter 

4 ounces smoked salmon, torn into bite-sized pieces 

¾ cup cherry tomatoes, halved 

½ cup yellow squash, cut into ½-inch cubes 

½ cup zucchini, cut into ½-inch cubes 

1 clove garlic, minced 

½ teaspoon kosher salt 

¼ teaspoon ground black pepper 

¼ teaspoon red pepper flakes 

2 ounces (½ cup) crumbled goat cheese 

1 tablespoon fresh chives, snipped 
Instructions
In a 12-inch skillet placed on a stove set to medium heat, melt the butter. 

Add smoked salmon, tomatoes, squash, zucchini, garlic, salt, black pepper and red pepper flakes to the pan. Stir to combine and cook until squash is tender, 4-5 minutes. Reduce to a simmer while pasta cooks. 

In a large pot, bring 3 quarts of water to a rolling boil. Add pasta to boiling water and gently stir to separate strands. 

Fettuccine will cook in approximately 90 seconds. Watch carefully, as pasta is delicate and can easily overcook. Drain pasta and add it to the pan, along with the goat cheese and chives. Toss to coat. Serve immediately. 
Kids Can Do
Measure out ingredients

Add ingredients to the pan

Help toss the noodles and sauce