Jan 15, 2021
Supergreens Pizza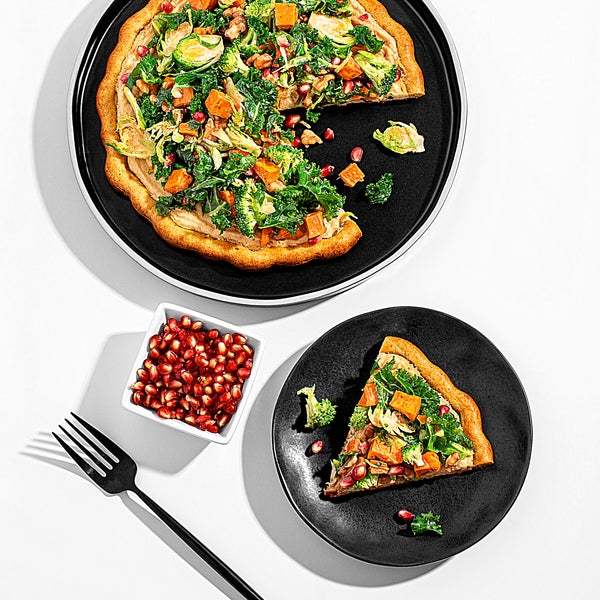 Ingredients
3/4 cup hummus
For the Roasted Potatoes:
1/2 cup sweet potatoes, peeled and diced
2 teaspoons olive oil
1/4 teaspoon salt
1/8 teaspoon ground black pepper
For the Supergreens:
1 tablespoon olive oil
2-3 teaspoons lemon juice
2 teaspoons Dijon mustard
1/8 teaspoon kosher salt
1/8 teaspoon ground black pepper
1 1/4 cups kale, stemmed and cut into 1-inch pieces
1/2 cup Brussels sprouts, shaved
1/2 cup broccoli, chopped
1/4 cup walnuts, roughly chopped
1 tablespoon pomegranate seeds
Instructions
Preheat the oven to 425°F. Place the baking sheet on the middle rack while the oven preheats.
Toss sweet potatoes in oil, salt, and pepper, and place onto a baking sheet lined with parchment paper.
Roast for 15-20 minutes or until soft and beginning to brown. Leave the oven on.
Spread the hummus evenly onto the crust. Bake for 11-13 minutes or until desired crispiness is reached.
While the pizza is cooking, make the dressing. In a small bowl add the olive oil, lemon juice, mustard, salt, and pepper. Whisk to combine and adjust seasoning as needed.
In a medium mixing bowl add roasted sweet potatoes, kale, Brussels sprouts, broccoli, walnuts, pomegranate seeds, and the dressing. Toss to coat and pile on top of the crust. Slice and serve.
Kids Can Do
Toss the sweet potatoes in oil
Mix the supergreens salad
Add the supergreens mixture to the pizza