Feb 12, 2021
Triple Chocolate Mousse Cake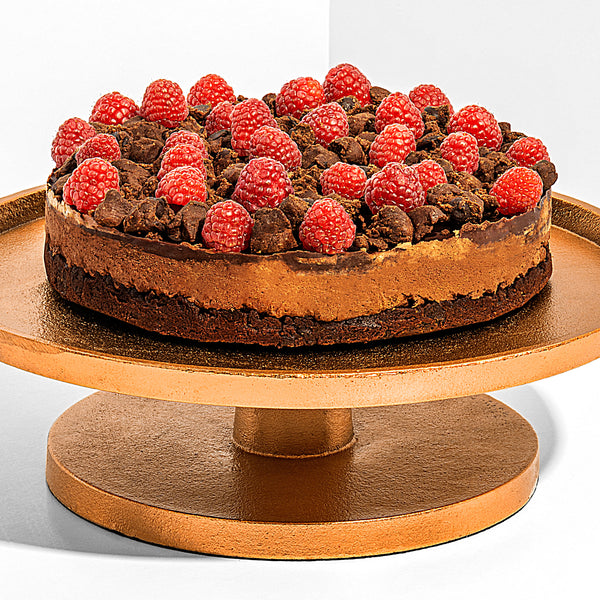 Ingredients
12 ounce package Cappello's Double Chocolate Chip Cookie Dough, thawed
For the Mousse:
2 tablespoons Dutch-processed cocoa powder
¼ cup hot water
8 ounces bittersweet chocolate, finely chopped
1 ¾ cups heavy whipping cream, cold
2 tablespoons powdered sugar
1 teaspoon vanilla extract
¼ teaspoon fine sea salt
For the Ganache:
¾ cup heavy whipping cream, cold
1 tablespoon unsalted butter
10 ounces semisweet chocolate, chopped
For Garnish:
6 ounces Cappello's Double Chocolate Chip Cookie Dough, thawed & crumbled
1 pint raspberries
Instruction
Preheat the oven to 350 F. Line the base and edges of a 9-inch springform cake pan with parchment paper. Tightly pack the cookie dough into the base of the pan.
Bake for 10-12 minutes. Remove from the oven and let cool completely before adding the mousse filling.
While the crust is cooling, make the mousse. In a small mixing bowl add cocoa powder and hot water. Whisk to combine and set aside.
Place a large heatproof bowl over a saucepan filled with 1 inch of water that has been brought to a simmer.
Add chopped chocolate. Use a spatula to stir until chocolate has melted. Remove from heat and let cool to room temperature.
In the bowl of a stand mixer fitted with the whisk attachment, add the cream, powdered sugar, vanilla, and salt. Turn to medium speed until the mixture begins to thicken, then increase to high until medium peaks form, 2-3 minutes.
Whisk the cocoa powder mixture into the melted chocolate.
Whisk ¼ of the whipped cream into the chocolate mixture to help lighten it.
Use a spatula to fold in the remaining whipped cream until no white streaks remain. (Note- don't overmix or the mousse will deflate).
Pour the mousse into the springform pan over the cooled cookie crust. Gently tap the pan on the counter a few times to remove any air bubbles. Refrigerate for at least 30 minutes before adding the ganache topping.
Make the ganache. Add cream and butter to a 2-quart saucepan placed on a stove set to medium heat. Cook until cream and butter have melted; do not let it boil.
Place the chocolate in a medium heatproof bowl and pour the hot cream over it. Let sit for 1 minute.
Whisk until smooth. Let cool to room temperature, whisking occasionally.
Spread the ganache over the top of the mousse layer and refrigerate until set, 1-2 hours.
When ready to serve, release the cake from the springform pan. Remove parchment paper from the sides. Top cake with crumbled cookie dough and raspberries. Slice and serve.
Kids Can Do
Pack the cookie dough into the pan
Help pour the mousse
Decorate the top