Aug 30, 2019
Vegan Chocolate Chip Cookie Cups
Remember in the original Willy Wonka movie when Gene Wilder was singing "Pure Imagination" in his chocolate factory? And how toward the end of the song, he takes a seat among his buttercup plants growing cups of buttermilk and sips one down? Then eats the cup? (Because as "The Candy Man" says, "You can even eat the dishes.") That beautiful moment inspired these equally beautiful vegan chocolate chip cookie cups, made with our own Chocolate Chip Cookie Dough. They take zero imagination to make, especially when you follow the recipe.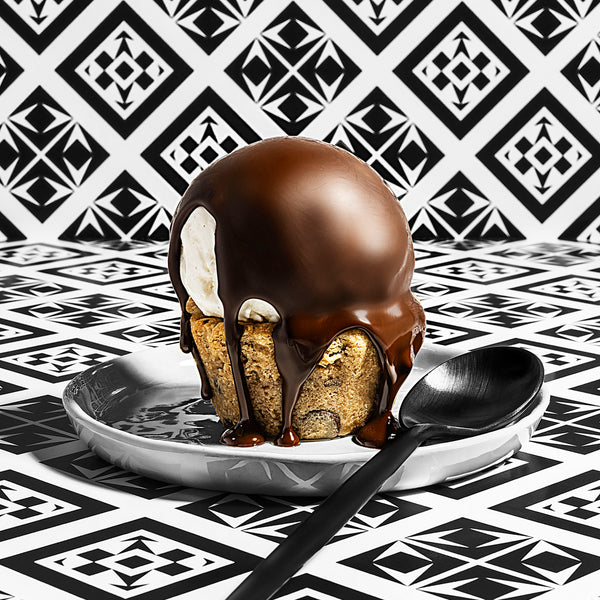 Ingredients
1 package Cappello's Chocolate Chip Cookie Dough
1 (2.5-ounce) bar dairy-free dark chocolate (such as Evolved Signature Dark)
2 teaspoons coconut oil
Dairy-free vanilla ice cream
Instructions
Preheat oven to 350°F. Line a muffin tin with six muffin liners, or grease with coconut oil.
Cut cookie dough into six equal pieces. Place one piece of cookie dough in each muffin cup, pressing up the sides and leaving a well in the center.
Bake 13–16 minutes, or until golden brown. Remove from oven and allow to cool completely.
When cookie cups are nearly cooled, combine chocolate and coconut oil in the top of a double boiler or in a heatproof bowl set over a saucepan of simmering water. Heat, stirring occasionally, until melted and well combined.
Once cookie cups have cooled, remove the muffin liners.
Top each cookie cup with a small scoop of ice cream and a drizzle of the melted chocolate.
Additional Info
Yield: 6 cookie cups
Prep Time: 10 minutes
Total Time: 35 minutes