Jul 02, 2021
Vegan Lemon Blueberry Cheesecake Bars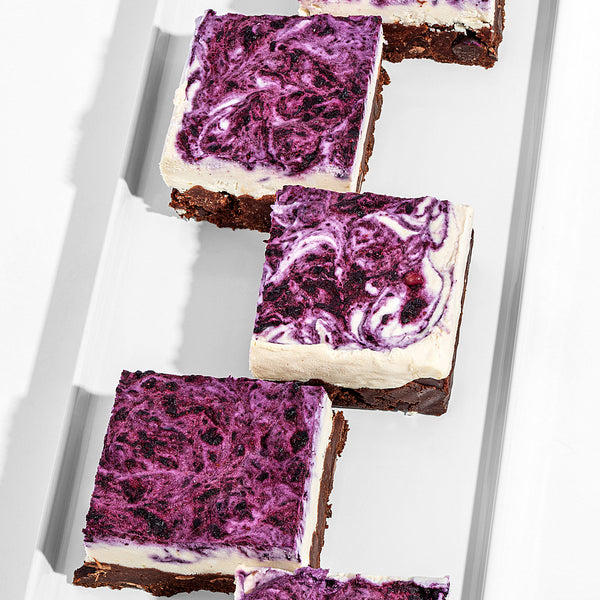 Ingredients
For the cheesecake filling:

One 15-ounce can of full-fat coconut cream, chilled 

1½ cups raw cashews, soaked overnight, then drained 

¼ cup coconut oil, melted and slightly cooled 

¼ cup maple syrup

¼ cup lemon juice 

1 tablespoon lemon zest 

1 teaspoon vanilla extract 

¼ teaspoon salt 

For the blueberry swirl:

½ cup frozen wild blueberries, thawed 

2 teaspoons maple syrup 

1 teaspoon lemon zest 

⅛ teaspoon ground cinnamon
Instructions
Line an 8-by-8-inch baking pan with parchment paper. 

Evenly press cookie dough into the base of the pan. Set aside. 

To the bowl of a food processor, add coconut cream, making sure to add just the cream off the top of the can. Discard the liquid. 

Add soaked and drained cashews, coconut oil, maple syrup, lemon juice, vanilla, and salt to the food processor. Blend until very smooth. 

Pour the mixture on top of the cookie dough. 

In a food processor add blueberries, maple syrup, and cinnamon. Blend until smooth. 

Spoon blobs of the blueberry mixture on top of the cheesecake layer. 

Using a sharp knife or skewer, make swirls, or "figure eights" to achieve a swirly look.

Place pan in the freezer and let chill for 2 hours. 

When ready to serve, remove from freezer, cut into 9 squares, and serve.
Kids Can Do
Add all ingredients into a food processor

Pour the cashew mixture

Spoon the blueberry mixture