Apr 27, 2018
White Sauce & Sausage Fettuccine
This pasta recipe is a delicious mix of creamy and savory while packed with protein and fiber.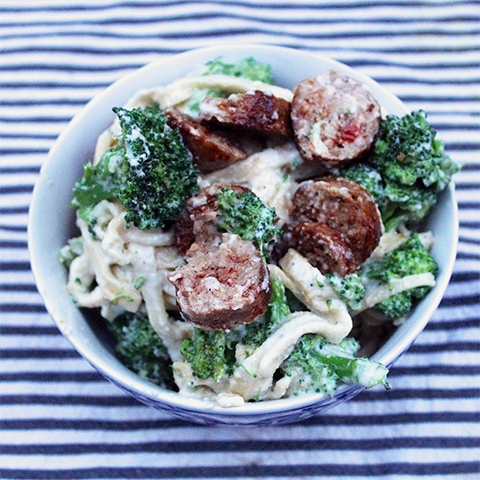 Ingredients
1 package Cappello's Fettuccine
3⁄4 cup of cashews (for best results, soaked up to 8 hours)
2 garlic cloves
1⁄4 cup of diced yellow onion
8 ounces coconut cream (about half a can)
1 tablespoon coconut flour
1⁄4 teaspoon salt
1⁄4 teaspoon pepper
1 tablespoon grass-fed butter or ghee
2 ounces of goat cheese (optional if dairy free)
1 head of broccoli
2 large, mild Italian sausages
Instructions
Sauce: yields 2 cups of sauce suitable for one box of Cappello's Fettuccine. Place cashews in a medium size bowl. Cover cashews entirely in water and soak 

for 4-8 hours. After soaking, strain cashews. Spread cashews out over a 

dish cloth, 

letting them dry.

Dice the onion and peel the garlic.
In a high-speed blender or food processor, add coconut cream.
Place cashews, diced onion, garlic, coconut flour, salt, and pepper into the blender 

with the coconut cream.

Blend for about 30 seconds, or until well combined.
In a small pot, melt butter or ghee. Once melted, add mixture from the blender.
Stir sauce for about 1 minute, and then add goat cheese. Break the cheese apart if 

necessary. Mix occasionally until well combined.

Heat the sauce for a total of 5 minutes.
Boil a medium sized pot of water.
While the water boils, cut the broccoli into small florets. Add the broccoli to the boiling water. Cook for 4-5 minutes.
Strain and set aside.
In a medium sized skillet, heat the two sausages on low. Cook each side for 5 minutes. The sausages will firm up when complete. Cut into small circular pieces and set aside.
Add Cappello's Fettuccine to a medium sized pot of boiling water, and cook according to instructions.
Once the fettuccine is strained, place it back the same pot. Add broccoli,   sausage, 

and white sauce. Mix until well combined.

Enjoy!
Additional Info