Jan 05, 2021
Winter Greens Pizza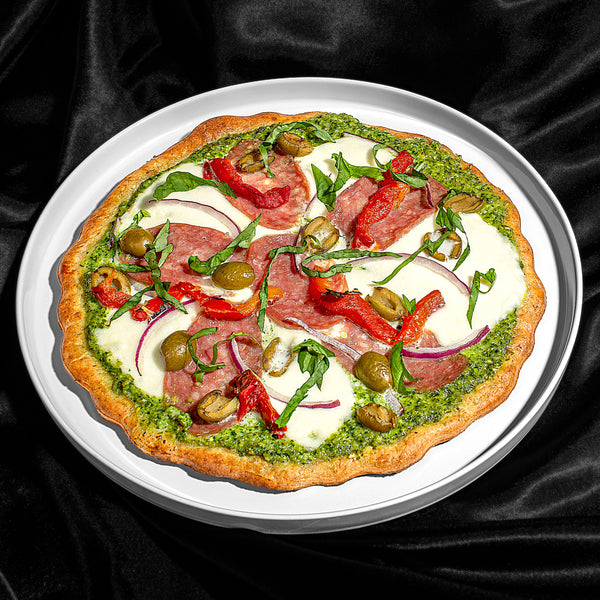 Ingredients
For the Pesto:
1 cup kale, stems removed and chopped
1/2 cup pitted green olives
1/3 cup grated vegan Parmesan cheese
3 tablespoons olive oil
2 tablespoons pine nuts
3 garlic cloves
1 teaspoon fresh lemon juice
1/4 teaspoon lemon zest
1/4 teaspoon kosher salt
For Assembly:
5 slices fresh Mozzarella
5 slices salami
1 tablespoon pitted green olives, halved
1 tablespoon red onion, sliced thin
1 tablespoon roasted red peppers, sliced thin
1 teaspoon fresh basil, chopped
Instructions
Preheat the oven to 425 F. Place the baking sheet on the middle rack while the oven preheats.
In a food processor, add all ingredients for the pesto and process until smooth. Adjust seasoning as needed.
Spread pesto evenly on the crust and top with mozzarella slices, salami, olives, red onions, and peppers.
Place pizza directly on the preheated baking sheet. Cook for 11-15 minutes, or until the crust begins to brown and cheese has melted. Top with fresh basil, slice, and serve.
Kids Can Do
Add ingredients to food processor
Pulse to make the pesto
Spread the pesto
Decorate the pizza