Aug 30, 2021
Air-Fried Cinnamon Sugar Butternut Squash Ravioli with Caramel Coconut Milk Ice Cream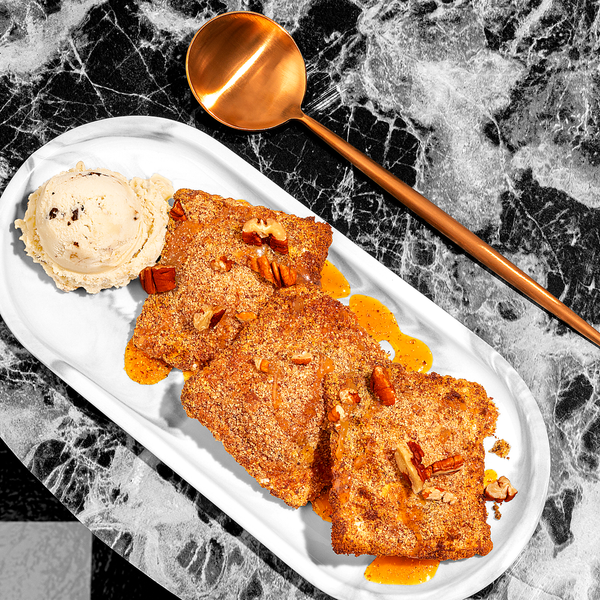 Ingredients
2 eggs

½ cup almond flour

½ cup pecan flour

3 tablespoons coconut sugar

1 tablespoon cinnamon

Cooking spray

Caramel Coconut Milk Ice Cream

Vegan caramel sauce (recipe below)

Flaky sea salt

Vegan Caramel Sauce:

1/2 cup light brown sugar

2 tablespoons dairy-free creamer

4 tablespoons vegan butter
Instructions
Preheat air fryer to 350 degrees F.

In a shallow bowl, beat the eggs. Place flours, sugar, and cinnamon in a separate shallow bowl and mix to combine. Dip ravioli in eggs, then in flour mixture, patting gently to help it stick.

In two batches, arrange ravioli in a single layer on greased air-fryer tray. Spritz tops with cooking spray. Cook 3-4 minutes, then flip and cook until golden brown, 3-4 minutes longer.

To make the vegan caramel sauce, combine brown sugar, dairy-free creamer, and vegan butter in a small saucepan and bring to a boil over medium heat. Reduce heat to low and continue cooking until caramel thickens, about 5 minutes.

Serve the ravioli warm topped with ice cream, a drizzle of caramel sauce, and a sprinkle of flakey sea salt.