Dec 17, 2019
Baked Chili Lime Chicken Taquitos (Paleo)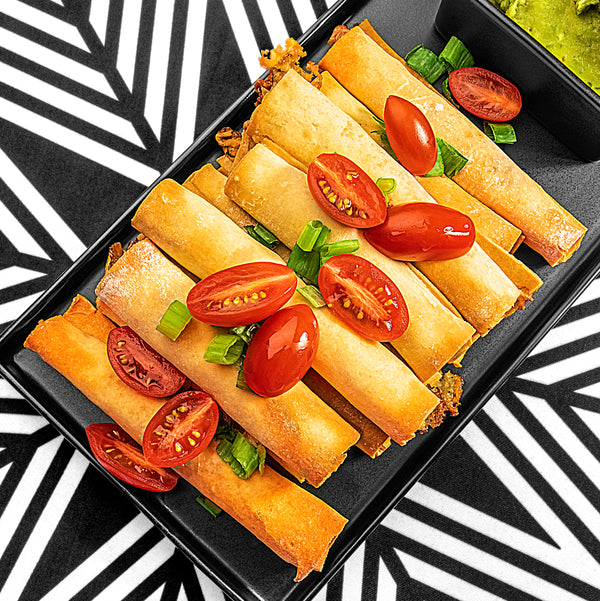 Ingredients
1 package Cappello's Lasagna Sheets, cut in thirds
1 pound skinless, boneless chicken tenderloins
1 teaspoon chili powder
½ teaspoon cumin
½ teaspoon salt
¼ teaspoon freshly ground black pepper
Zest of 1 lime
1 tablespoon fresh lime juice
2 cloves garlic, minced
1 tablespoon avocado oil
1 cup shredded dairy-free cheese
¼ cup chopped cilantro
2 tablespoons sliced green onions
Instructions
In a large bowl, toss the chicken with the chili powder, cumin, salt, pepper, lime zest and juice, and garlic. Let chicken marinate for 15-20 minutes.
In a large non-stick pan over medium-high heat, heat the oil. Cook the chicken for about 2-3 minutes on each side, or until golden brown and cooked through; remove and set aside.
Once cooled, shred the chicken into small pieces.
Preheat oven to 425ºF.
Sprinkle about a tablespoon of the shredded chicken in a line on the bottom of a lasagna sheet; top with a small sprinkle of cheese and cilantro leaves, and roll as tightly as possible upward; place the taquito seam-side down on a baking sheet to hold as you continue to roll the rest of the taquitos.
Bake 15-20 minutes or until crisp and the ends start to brown.
Additional Info
Prep time: 5 minutes
Total time: 1 hour