Jul 16, 2019
Chicken Sausage Manicotti with Creamy Spinach Artichoke Pecan Pesto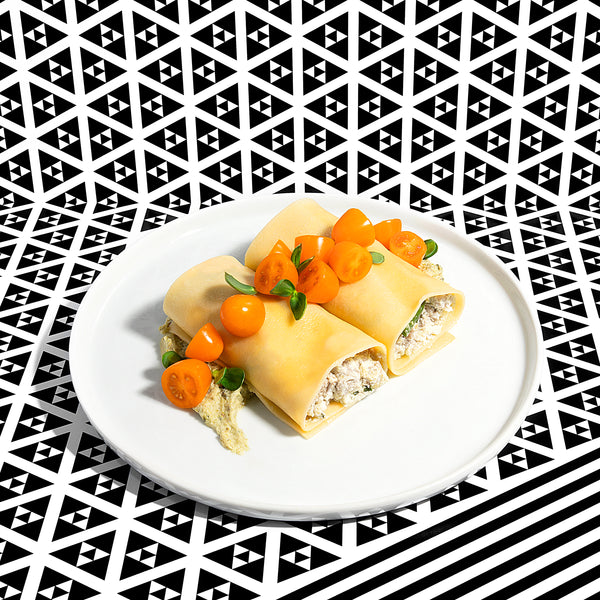 Ingredients
Pesto:
1 cup canned artichoke hearts
1 cup fresh basil
¼ cup pecans
2 cloves garlic
2 tablespoons lemon juice
¼ cup olive oil
3 tablespoons grated Parmesan (optional)
3 tablespoons almond milk
Manicotti:
16 ounces hot Italian chicken sausage, casings removed
15 ounces ricotta
1 cup fresh spinach
2 cups cherry tomatoes, chopped
Instructions
To make the pesto, combine all ingredients in a food processor and blend until smooth and creamy. Set aside.
In a large skillet over medium heat, cook sausage 5-8 minutes, or until brown and cooked through, crumbling with a wooden spoon as it cooks.
Drain sausage and place in a large bowl. Stir in ricotta, spinach, and ¼ cup of pesto until well combined.
Preheat oven to 350ºF.
Bring a large pot of water to a boil. Cut lasagna sheets in half.
Place noodles, 2-3 at a time, in boiling water. Cook 90 seconds, stirring gently so they do not stick together. Remove from water, place on a baking sheets lined with parchment paper so they do not touch.
Continue with remaining noodles.
Scoop ¼ cup of sausage-ricotta mixture into the center of each lasagna sheet, and roll into a tube.
Heat the manicotti in the oven, 5-8 minutes, or until warm.
Serve warm with 2 tablespoons spinach-artichoke pesto, garnished with cherry tomatoes.
Additional Info