Feb 11, 2021
Cookie Dough Tart with Vegan Coconut Pastry Cream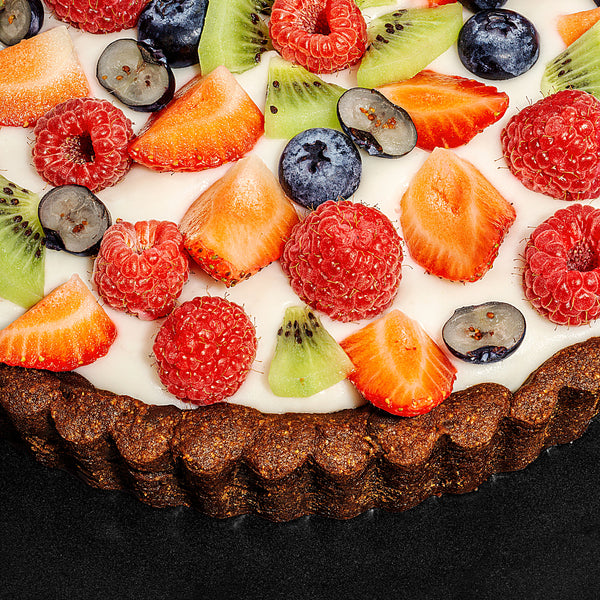 Ingredients
For the Vegan Coconut Pastry Cream:
14-ounce can full-fat coconut milk
1/2 cup almond milk
1/2 cup granulated sugar
1/4 cup arrowroot starch
1 teaspoon vanilla bean paste (or seeds removed from 1 vanilla bean)
1/4 teaspoon sea salt
1/4 cup vegan butter, cubed
For Garnish:
2 cups mixed berries and fresh fruit
Instructions
Preheat the oven to 350 F.
Firmly press the Double Chocolate Chip Cookie Dough into an 8-inch tart pan. Place in the oven and bake 10-12 minutes, or until the edges are baked through. Remove from the oven and let cool completely before assembling the tart.
While the tart shell is cooling, make the filling.
In a medium saucepan, add the coconut milk, almond milk, sugar, arrowroot starch, vanilla and salt. Place on a stove set to medium heat. Cook, whisking constantly until the coconut pastry cream has thickened and is bubbling, 10-15 minutes.
Remove pan from heat and add the cubed vegan butter. Whisk until butter has melted and pastry cream is smooth.
Transfer cream to a bowl and cover with plastic wrap, making sure it touches the surface of the pastry cream so it doesn't form a skin.
Refrigerate cream until completely chilled, about 1 hour.
To assemble the tart, pour the chilled pastry cream into the baked tart shell. Top with fresh fruit and serve chilled.
Kids Can Do
Help press the dough out into the tart container
Help whisk the filling
Add the fresh fruit