Oct 28, 2020
Cookie Truffle Tart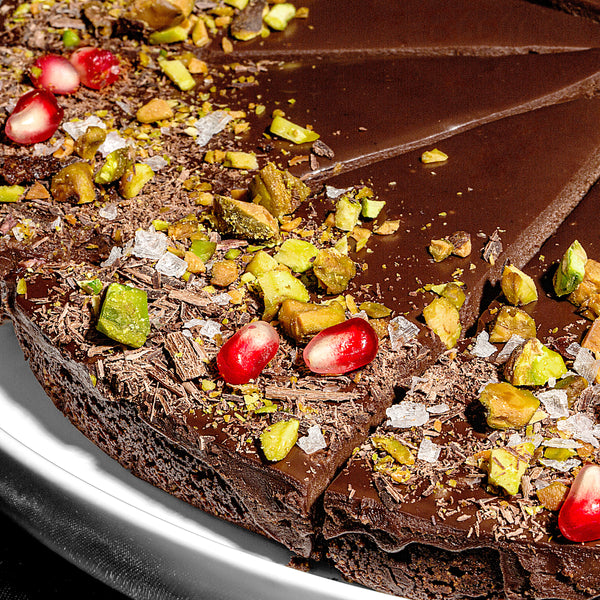 Ingredients
4 ounces good quality semi-sweet chocolate, roughly chopped
2/3 cup heavy whipping cream
1/2 teaspoon vanilla extract
1/4 teaspoon fine sea salt
2 ounces good quality chocolate, shaved, for garnish
2 tablespoons pistachios, chopped
1 tablespoon pomegranate seeds
1 teaspoon flake salt
Instructions
Preheat the oven to 350°F. Line a 9-inch springform pan with parchment paper and coat in cooking spray.
Press cookie dough evenly into the base of the prepared pan. Bake until the edges are crisp and the crust is cooked throughout, 10-12 minutes. Let cool completely on a wire rack.
While the cookie base is cooling, make the ganache. Place chopped chocolate in a heatproof bowl. In a small saucepan add heavy cream and place on a stove set to medium-high heat. Warm until cream comes to a simmer. Immediately pour cream over chocolate; let rest 2-3 minutes. Gently whisk until smooth. Add vanilla and salt. Whisk to combine.
Pour ganache over cooled cookie crust. Let sit at room temperature for 15 minutes. Transfer tart to the refrigerator and let rest until chilled, about 1 hour.
When ready to serve, remove tart from the refrigerator and let sit out at room temperature for 15 minutes. Run a knife along the edge of the pan and gently release and remove the springform.
Top tart with chocolate shavings, pistachios, pomegranate seeds, and salt and cut into wedges (using a knife that has been dipped in hot water and wiped clean helps create a nice, clean line). Serve chilled or at room temperature.
Kids Can Do
Press the cookie dough into the pan
Whisk and pour the ganache
Add the toppings to decorate