Apr 30, 2020
Double Chocolate Cookie Dough Cupcakes with Chocolate Buttercream Frosting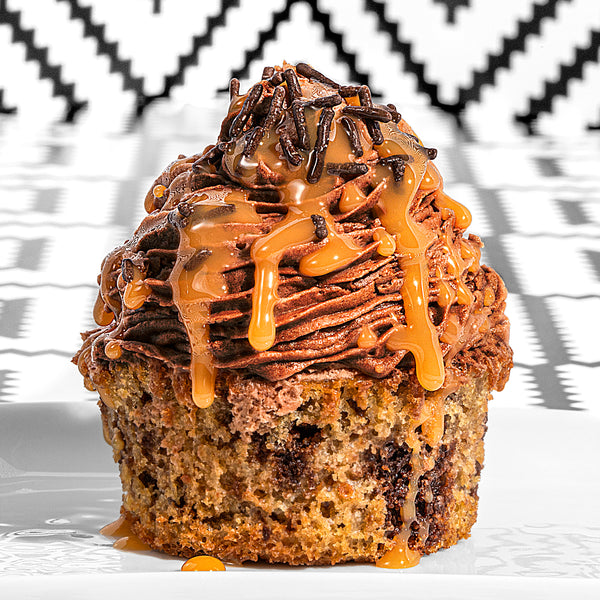 Ingredients
3/4 cup almond flour
3/4 teaspoon baking powder
1/2 teaspoon baking soda
1/4 teaspoon salt
2 eggs
1/2 cup white sugar
1/4 cup almond milk yogurt
1/3 cup coconut oil
1/4 cup almond milk
1/2 teaspoon vanilla
1 teaspoon white vinegar
1 cup (2 sticks) butter (or vegan butter)
2 cups powdered sugar
1/4 cup cocoa powder
2 teaspoons almond milk
Instructions
Preheat the oven to 350°F. Line a 12-cup muffin pan with cupcake liners. Set aside.
Whisk the flour, baking powder, baking soda, and salt together in a large bowl until thoroughly combined. Set aside.
In a medium bowl, whisk the eggs, granulated sugar, yogurt, oil, milk, vanilla and vinegar, together until combined. Pour half of the wet ingredients into the dry ingredients. Gently whisk for a few seconds. Repeat with the remaining wet ingredients. Stir until combined; do not over-mix.
Working over the bowl, break up the cookie dough into bite size pieces, mix to combine.
Pour or spoon the batter into the liners, evenly disturbing the batter into each one. Bake for 15-18 minutes, or until a toothpick inserted in the center comes out clean. Allow to cool completely before frosting.
Add the butter, powdered sugar, cocoa powder and almond milk into a stand mix and mix on medium until fluffy, smooth and creamy. For a thicker frosting, gradually add in more sugar to reach your desired consistency.
Top the cupcakes with the frosting using your desired technique and add sprinkles and caramel drizzle (optional).
Kids Can Do
Whisk ingredients
Break up the cookie dough
Frost the cupcakes