Oct 10, 2023
Eggs Benedict Breakfast Pizza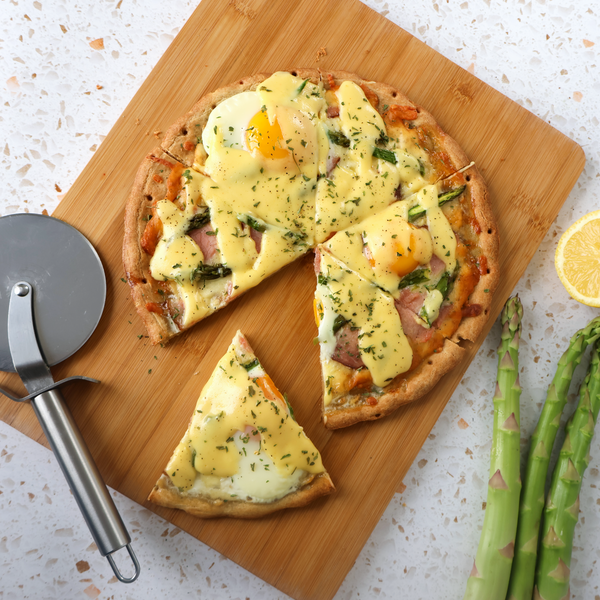 INGREDIENTS
1 Cappello's Naked Pizza Crust

½ pound fresh asparagus

1 Tablespoon olive oil

Sea salt and ground pepper

6 ounces Fontina cheese (grated - about 2 cups)

5 slices Canadian bacon 

2 Tablespoons chopped chives

Hollandaise Sauce

3 egg yolks

1 tablespoon lemon juice , or more as desired for flavor

1 teaspoon Dijon mustard

1/4 teaspoon salt

pinch of cayenne pepper

1/2 cup unsalted butter or ghee
INSTRUCTIONS
Remove the woody ends of the asparagus. Slice asparagus on a diagonal into 1-inch pieces and place in a large bowl. Drizzle olive oil over the asparagus and season with salt and pepper. Set aside.

Sprinkle the fontina cheese over the top of the crust. Place the Canadian bacon slices evenly over the top of the cheese, then top with the asparagus.

For The Hollandaise: Melt the butter in a microwave (make sure it's covered as it will splatter) for about 1 minute, until it's hot. Alternatively, you could heat it on the stove.

Add the egg yolks, lemon juice, dijon, salt and cayenne pepper into a high powered blender and blend for 5 seconds until combined.

With the blender running on medium high, slowly stream in the hot butter into the mixture until it's emulsified.

Slide pizza onto preheated baking sheet and cook until golden brown, 8 to 10 minutes, turning after 5 minutes. Remove pizza from oven and crack three eggs over the top.

Return the pizza to the oven and cook until egg whites are set, but the yolks are still runny, 2 to 4 minutes.

Remove the pizza from the oven and drizzle with Hollandaise sauce and sprinkle with chives before serving.
KIDS CAN DO
Add pizza toppings

Drizzle the hollandaise