Feb 17, 2021
Fettuccine with Roasted Mushrooms and Shaved Parmesan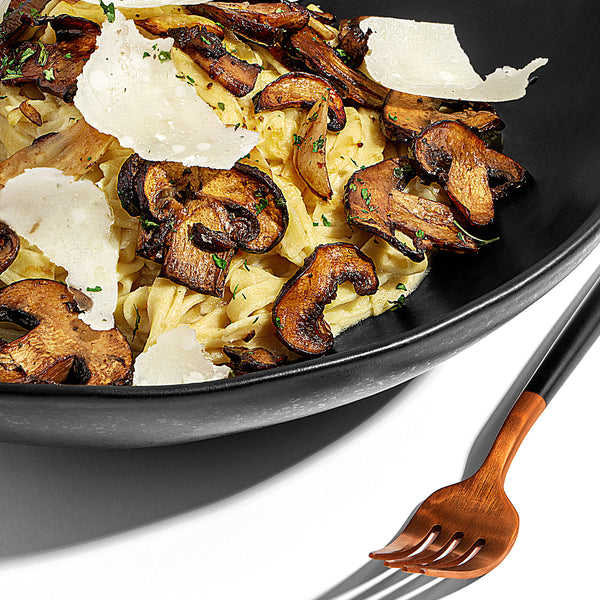 Ingredients
For the roasted mushrooms:
16 ounces cremini mushrooms, cleaned & thinly sliced
5 tablespoons olive oil, divided
2 tablespoons balsamic vinegar
2 tablespoons Worcestershire sauce
2 large cloves garlic, minced
1/4 teaspoon sea salt
1/4 teaspoon freshly ground black pepper
For Finishing:
1/4 cup Parmesan, shaved
Flake salt, for finishing
Instructions
Preheat the oven to 400 F.
In a medium mixing bowl add the mushrooms, 3 tablespoons olive oil, vinegar, Worcestershire sauce, garlic, salt and pepper. Toss to coat and arrange in a single layer on a parchment lined baking sheet.
Roast until mushrooms are cooked through and slightly crisp along the edges, 20-25 minutes.
While the mushrooms cook, add 1 package of fettuccine to 3-4 quarts of boiling water. Stir to separate strands.
Fettuccine will cook al dente in approximately 90 seconds.
Drain then toss cooked pasta with 2 tablespoons olive oil and roasted mushrooms.
Divide among plates and top with shaved parmesan and flake salt.
Serve immediately.
Kids Can Do
Toss the fettuccine in oil
Sprinkle the salt