Mar 20, 2020
Four Cheese Ravioli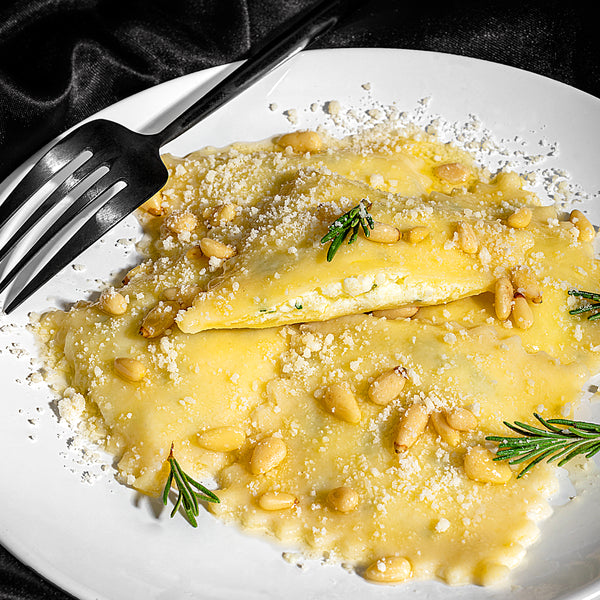 Ingredients
1 package Cappello's Lasagna Sheets, thawed if frozen
1/4 cup + 1 tablespoon ricotta cheese
1/4 cup shredded mozzarella
2 tablespoons parmesan
2 tablespoons shredded fontina cheese
1/4 cup basil leaves, minced
1/2 teaspoon garlic powder
1/4 cup butter
3 tablespoons pine nuts
1 tablespoon dried rosemary
1/4 cup Parmesan
Instructions
In a small bowl add the ricotta, mozzarella, parmesan, fontina and basil together; mix to combine.
Cut each lasagna sheet into three equal squares and brush with water to dampen.
Spoon 1 tablespoon of the cheese mixture into center of half of the lasagna sheet squares. Top with a second square and press down gently on edges to seal. Use a square ravioli stamp to cut and seal ravioli, or alternatively, use a fork to crimp the edges of each ravioli.
Place ravioli into a large saucepan of boiling, salted water, and cook 2 minutes. Drain and set aside.
In a small skillet, melt the butter. Add the pine nuts and rosemary; cook for 3 minutes. Add the ravioli and toss to coat; then transfer to a plate and top with parmesan.