Apr 14, 2020
Garlic and Basil Fettuccini with Salmon (Paleo)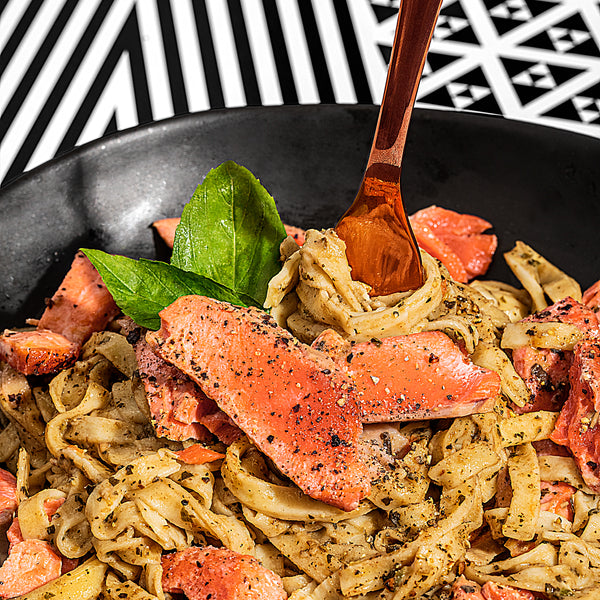 Ingredients
5 tablespoons oil, divided
1 pound salmon fillet
4-5 cloves garlic, minced
1/2 cup basil, finely chopped
1 teaspoon salt
pepper to taste
1 cup dairy-free milk
1 teaspoon tapioca flour
salt and pepper to taste
Instructions
In a large pot bring 3-4 qts of water to boil.
While the water boils, heat 2 tbsp of the oil in a large skillet over medium heat. Place the salmon skin side down in the pan and season with salt and pepper; cook for 3-5 minutes then flip and cook for another 3-5 minutes or until desired temperature is reached.
Remove from the pan and set aside.
Using the same pan, add in the remaining oil and cook the garlic, salt and pepper for 1-2 minutes or until lightly browned and fragrant; then add in the basil and stir.
Whisk the milk and tapioca flour together and pour into the pan; bring to a boil and allow to cook for 3-5 more minutes. Stir to combine and turn the heat to low.
Cook the fettuccini according to package directions- for about 90 seconds in boiling water then drain and add to the pan with the garlic basil sauce and stir to coat the noodles with the sauce.
Divide the pasta evenly among 2 plates then flake the salmon into chunks and add to the pasta. Top with salt and fresh cracker pepper.
Kids Can Do
Whisk the milk and tapioca flour
Pull the salmon into chunks
Add the salt and pepper