Nov 06, 2019
Grain-Free Chicken Pot Pies (Paleo, Keto-friendly)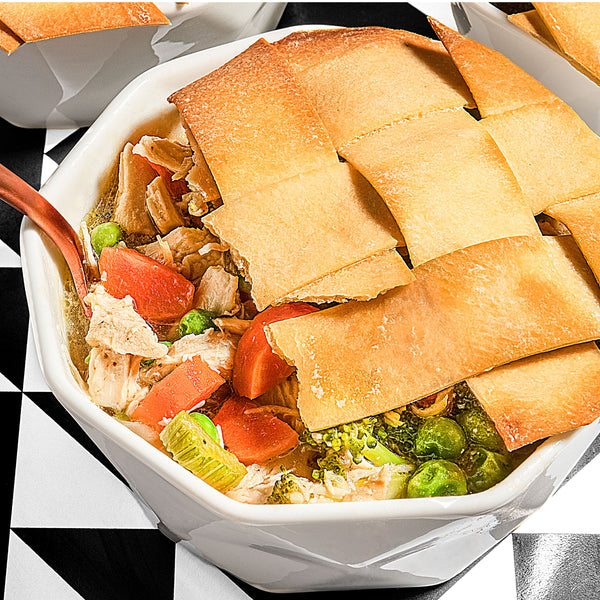 Ingredients
1 package Cappello's Lasagna Sheets, thawed if frozen
1 pound cooked chicken breasts, shredded
1 small onion, diced
1 cup celery, diced
1 1/2 cups carrots, diced
2 cups broccoli florets, chopped
1 cup frozen peas
6 tablespoons ghee
1/4 cup tapioca flour
2 3/4 cups chicken bone broth
1/3 cup full fat coconut milk
1 teaspoon fresh thyme, chopped
3/4 teaspoon sea salt
1/4 teaspoon freshly ground black pepper
1 tablespoon fresh parsley minced
Instructions
Preheat oven to 400ºF.
In a large pot over medium heat, melt ghee. Add the onion and celery, and sauté 5 minutes, until translucent.
Add in the tapioca flour and whisk well. Pour in bone broth and bring to a boil over medium-high heat. Once boiling, lower heat to medium-low and simmer 10 minutes, until thickened.
Once thickened, add the coconut milk, rosemary, thyme, salt, pepper, parsley, chicken, carrots, broccoli, and peas. Stir and cook another 1-2 minutes, then remove from heat.
Divide chicken mixture evenly among 6 (8-ounce) ramekins.
Cut each lasagna sheets into 4 long strips, then cut each strip in half. Brush with water to dampen.
Weave 6 strips into a 3-strip by 3-strip lattice and place over the ramekin, cutting away excess dough from the edges. Repeat for remaining five ramekins.
Place ramekins on a large baking sheet and bake 15-18 minutes, or until crust is golden brown and crispy on the edges.
Remove from oven and serve warm.
Additional Info
Yield: 6 servings
Prep time: 15 minutes
Total time: 1 hour 15 minutes