Mar 24, 2023
Green Goddess Gnocchi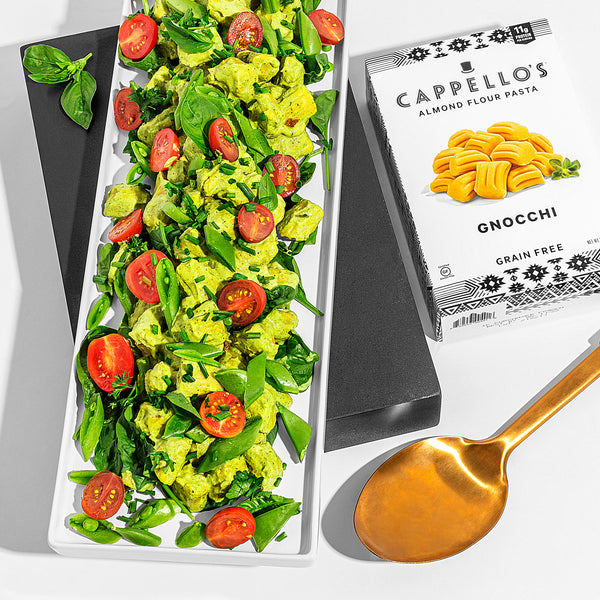 Ingredients
2 packages Cappello's Gnocchi 

For the Green Goddess Sauce 

2 tablespoons olive oil 

1 cup plain full-fat Greek yogurt

1 cup fresh basil leaves, packed 

1 small avocado, peeled & pitted 

2 scallions 

2 garlic cloves, peeled

2 tablespoons lemon juice 

1 teaspoon lemon zest 

½ teaspoon kosher salt 

½ teaspoon ground black pepper 

For Finishing 

1 cup baby spinach 

¾ cup cherry tomatoes, halved 

½ cup sugar-snap peas, cut into ½-inch pieces 

2 tablespoons chives, snipped 

2 tablespoons Italian parsley, chopped 

2 tablespoons basil leaves, chopped 
Instructions
Make the green goddess sauce: To a high speed blender add all ingredients for the sauce. Process until smooth. Taste and adjust seasoning as needed. 

Cook the gnocchi: From fresh or frozen, add 1 package of gnocchi to 4 quarts of boiling water and stir immediately. 

Continue stirring every 30 seconds for 1-3 minutes until gnocchi floats. Drain gnocchi. 

To a 12-inch nonstick skillet over medium heat add green goddess sauce and gnocchi. Cook until warmed through, about 5 minutes. Transfer to a large serving bowl. Add spinach, tomatoes, peas, chives, parsley, and basil to the bowl. Toss to coat and serve.
Kids Can Do
Add ingredients to blender for the green goddess sauce.

Top cooked gnocchi with spinach, tomatoes, and herbs.