Apr 16, 2021
Jalapeño Popper Pizza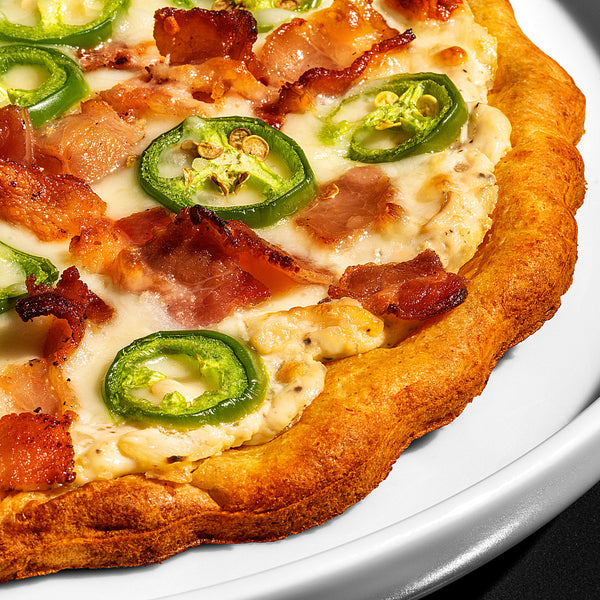 Ingredients
3 slices bacon thick-cut bacon, cut into 1-inch pieces
1/2 cup yellow onion, diced 
4 ounces of cream cheese, cut into 2-inch cubes 
1/4 cup sour cream 
1 teaspoon garlic, minced 
1/2 teaspoon kosher salt 
1/4 teaspoon ground black pepper 
1 cup shredded mozzarella cheese 
1 jalapeño pepper, sliced into thin rings 
Instructions
Preheat oven to 425 F. Place a baking sheet on the middle rack while the oven preheats. 
Add cut bacon to a large skillet set over medium-high heat. Cook, turning occasionally until cooked to desired crispiness, 5-6 minutes. Use a slotted spoon to remove the bacon and place it on a plate that has been lined with paper towels. Leave the bacon grease in the pan. 
Add the onions to the pan. Cook until soft and translucent, 3-5 minutes. 
Add garlic; continue to cook for 2 more minutes. Turn heat to medium-low.
Add cream cheese, sour cream, salt, and black pepper to the onion mixture. Stir until cream cheese has melted and the mixture is smooth. Remove from heat. 
Spread the cheese mixture evenly over the pizza crust. 
Top with mozzarella. Evenly scatter bacon pieces and jalapeño pepper rings over the top.
Place pizza directly on the preheated baking sheet. Cook for 11-15 minutes, or until the crust begins to brown. Slice and serve.
Kids Can Do
Make the cream cheese mixture
Spread the cream cheese mixture
Add the bacon<