May 05, 2021
Loaded Mexican Fries Pizza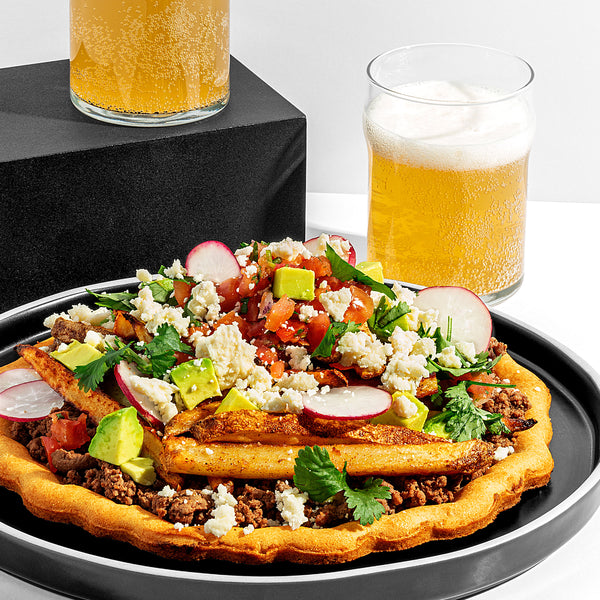 Ingredients
For Mexican spiced fries:

1 medium russet potato 

2 tablespoons olive oil 

½ teaspoon kosher salt 

¼ teaspoon cumin 

⅛ teaspoon chili powder 

¼ teaspoon garlic powder 

⅛ teaspoon paprika 

⅛ teaspoon cayenne pepper 

For ground beef:

1 tablespoon olive oil 

5 ounces ground beef 

½ teaspoon kosher salt 

½ teaspoon chili powder 

¼ teaspoon ground black pepper 

For assembly:

½ avocado, diced 

¼ cup pico de gallo 

1 radish, sliced thin

¼ cup Cotija cheese, crumbled 

2 tablespoons fresh cilantro, chopped 
Instructions
Preheat oven to 425 F. Cut potato into fries that are about ½-inch thick. 

In a medium mixing bowl, add fries, olive oil, and spices. Toss to coat and place on a baking sheet lined with parchment paper. 

Bake for 20 minutes, flip the fries, then bake for an additional 10-15 minutes, or until the fries are golden and crispy. 

While fries are baking, cook the beef. In a 12-inch skillet placed on a stove set to medium heat, warm the oil. Add the beef, salt, chili powder, and black pepper. 

Cook until meat is no longer pink, breaking it up into pieces as it cooks, 5-7 minutes. 

Place pizza directly on the preheated baking sheet. Cook for 11-15 minutes, or until the crust begins to brown. Remove from oven. 

Top pizza with fries, ground beef, avocado, pico de gallo, radishes, cotija, and cilantro. Serve immediately. 
Kids Can Do
Toss fries in seasoning

Help add all toppings