Dec 29, 2020
Pad See Ew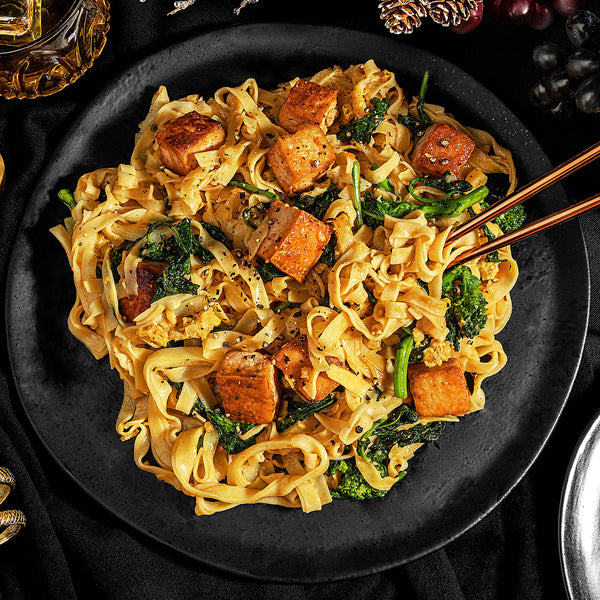 Ingredients
3 tablespoons avocado oil, divided
8 ounces firm tofu, cubed
3 cloves garlic, minced
8 ounces broccoli rabe, roughly chopped
1 egg, beaten
Freshly ground black pepper
For the Sauce:
1 tablespoon vegetarian mushroom oyster sauce
1 tablespoon low-sodium tamari
2 tablespoons gluten-free sweet soy sauce (also known as Black or Dark Soy Sauce)
1-2 teaspoons chili-garlic sauce
Instructions
Combine all ingredients for sauce in a small bowl, and whisk until smooth. Set aside.
Cook fettuccine according to package directions.
Place the tofu in a medium bowl and drizzle with 1 tablespoon of the sauce. Gently toss to coat.
Drizzle 1 tablespoon of oil in a large, nonstick wok over high heat. Add the tofu to the pan in a single layer and cook 1-2 minutes on each side, or until browned. Flip and brown on the other side, 1-2 minutes more. Remove from the pan and set aside.
In the same wok, heat the remaining oil. Add garlic, and sauté for 30 seconds. Add broccoli rabe and cook one minute or until it has slightly softened.
Add fettuccine and remaining sauce. Toss gently until noodles and vegetables are evenly coated with sauce. Spread noodles into an even layer and let it sit for 30 to 45 seconds to sear. Toss and repeat.
Push noodles to one side of the wok and pour the egg into the empty space. Scramble the egg separately, then mix into noodles and vegetables.
Add seared tofu back into wok and toss everything together.
Transfer to a serving plate and garnish with freshly ground black pepper. Serve immediately and enjoy!
Kids Can Do
Measure sauce ingredients
Whisk sauce
Beat egg
Stir noodles