May 10, 2021
Spring Pea Browned Butter Ravioli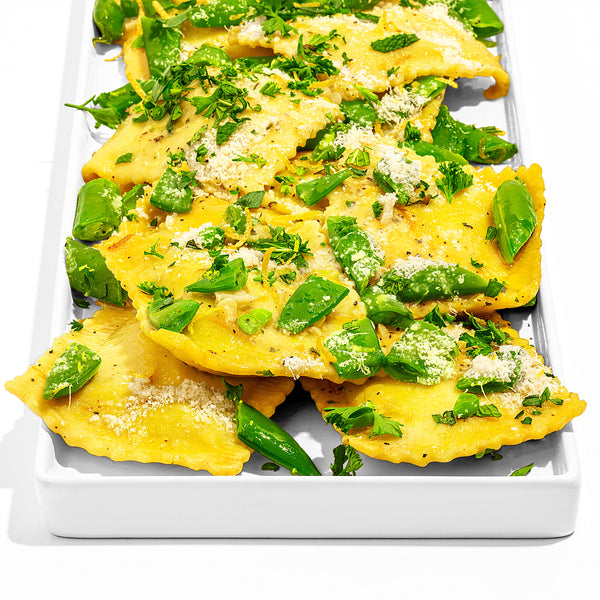 Ingredients
¼ cup (½ stick) unsalted butter

½ cup sugar snap peas, cut into ¼ -inch pieces

1 teaspoon (1 clove) garlic, minced

1 teaspoon lemon zest

½ teaspoon kosher salt

¼ teaspoon ground black pepper

2 ounces (½ cup) parmesan cheese, grated

1 tablespoon fresh parsley, roughly chopped

2 teaspoons fresh tarragon, roughly chopped

2 teaspoons fresh mint, roughly chopped
Instructions
In a 12-inch nonstick skillet placed on a stove set to medium-low heat, melt the butter. Cook until the butter turns deeply golden and smells nutty, scraping the brown bits with the spatula as they form on the bottom of the pan. This process should take 10-12 minutes. Stir in the chopped peas, garlic, lemon zest, salt, and black pepper. Cook for an additional 2 minutes.

While the butter is browning, cook the ravioli:
In a large pot, bring 3 quarts of water to a rolling boil. Add frozen ravioli and cook for 7-8 minutes. Drain water and add the cooked ravioli to the browned butter sauce. Toss to combine.

Top with parmesan and fresh herbs and serve immediately.
Kids Can Do
Help measure the ingredients

Sprinkle the parmesan and herbs over the ravioli