Apr 08, 2020
Sweet Potato Gnocchi with Asparagus and Herbed Butter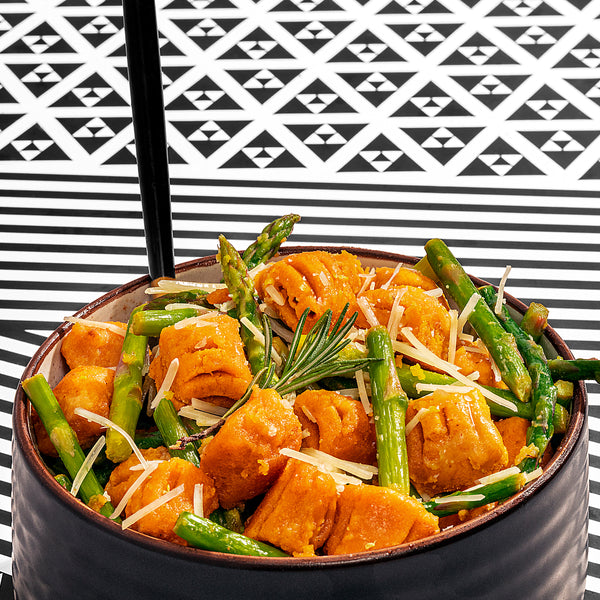 Ingredients
1/2 bunch asparagus, cut into 2 inch pieces
1/2 stick butter
2 small sprigs rosemary
2 small sprigs thyme
1/2 lemon
shredded parmesan to garnish
Instructions
To make the browned butter, heat a skillet over medium heat and melt the butter. Add in the herbs and zest the lemon into the skillet, then squeeze the juice into the pan. Continue to move the butter and herbs around the pan until the butter begins. Pour the butter and herbs into a bowl and set aside.
Fill a large pot with water and bring to a boil.
Add asparagus to boiling water and cook for 3-5 minutes or until soft but slightly crunchy.
Using a stainer, remove the asparagus from the water and set aside to drain.
Using the same boiling water, cook gnocchi to package directions.
Place the skillet over medium heat.
Strain the browned butter into the pan removing the herbs and add the asparagus and gnocchi, cook for 2-3 minutes stirring well.
Transfer to a bowl and sprinkle with parmesan and extra lemon zest.
Kids Can Do
Squeeze the lemons
Fill the pot with water
Sprinkle the parmesan