Apr 25, 2021
The Ultimate Grilled Cheese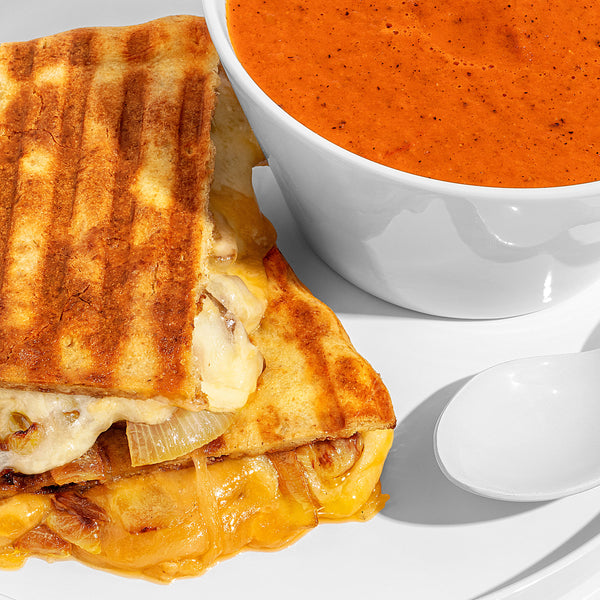 Ingredients
For the Grilled Cheese 
½ medium yellow onion, cut into ½- inch slices 
3 tablespoons unsalted butter, divided 
¼ teaspoon kosher salt 
1 tablespoon dijon-style mustard 
2 ounces muenster, sliced 
2 ounces sharp cheddar, sliced

2 ounces gruyere, sliced 

For the Tomato Soup 
1 tablespoon unsalted butter 
⅓ cup yellow onion, diced 
1 tablespoon (3 cloves) garlic, minced
½ teaspoon kosher salt
¼ teaspoon ground black pepper 
⅛ teaspoon red pepper flakes
1 14.5-ounce can diced fire-roasted tomatoes 
¾ cup vegetable broth 
¼ cup half & half or heavy cream 
Instructions
Make the tomato soup. Melt butter in a 2-quart saucepan placed on a stove set to medium heat. Add onions, garlic, salt, black pepper and red pepper flakes. Cook, stirring constantly until onions are translucent, 3-5 minutes. 
Add crushed tomatoes and broth to the pan. Bring to a boil, then reduce to a simmer and let cook until soup thickens and reduces slightly, about 10 minutes. 
Remove from heat. Transfer to a blender or use an immersion blender to process soup until smooth. Stir in half & half or heavy cream. Keep warm until ready to serve. 
Place onions, 1 tablespoon butter, and salt in a 12-inch nonstick skillet placed over medium-low heat and cook, stirring frequently until the onions are golden and caramelized, 15-20 minutes. Transfer to a medium bowl and set aside.
For assembly, cut the crust in half and spread the outsides with the remaining 2 tablespoons of butter.
Spread mustard on the base layer, followed by the caramelized onions. Layer cheeses over the onions, followed by the other half of the crust. 
Place the assembled sandwich on a hot panini press and cook until the cheese has melted and grill marks appear, about 5 minutes. Serve warm with tomato soup.
Kids Can Do
Measure out the soup ingredients
Help to layer the cheeses onto the crust