Nov 26, 2019
Turkey "Egg Rolls"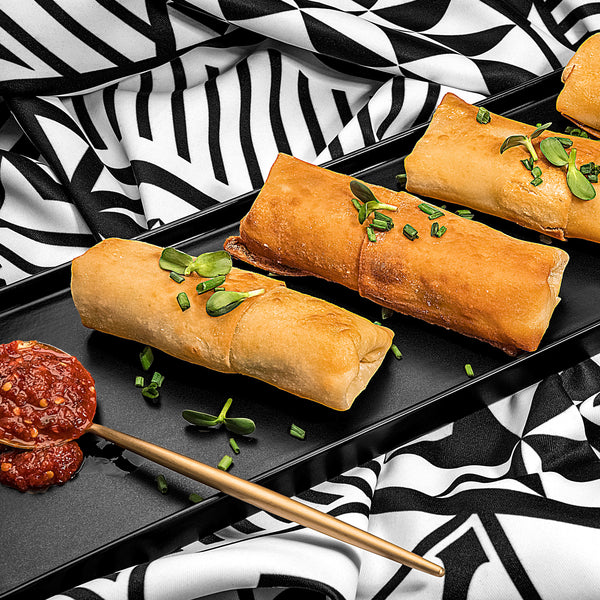 Ingredients
1 package Cappello's Lasagna Sheets, thawed if frozen
16 ounces broccoli slaw
2 cups cooked turkey, shredded
1 clove garlic, minced
1 teaspoon Kosher salt
1/2 teaspoon freshly ground black pepper
1/2 teaspoon freshly grated ginger
2 tablespoons tamari
Coconut or avocado oil (for frying)
Optional: cranberry sauce, sriracha
Instructions
Combine the broccoli slaw, turkey, garlic, salt, pepper, ginger, and tamari in a large bowl. Mix well.
Cut the lasagna sheets in half. Brush two sheets at a time with water, and overlap the edges of two half-sheets, to form one large square.
To fill the egg rolls, place about 1/4 cup of the turkey mixture diagonally on the sheet.
Fold the bottom corner over the filling, roll snugly half-way to cover the filling.
Fold in both sides tightly against the filling and moisten the edges of the flaps with water. Press down.
Finish by rolling the sheet up and seal the top by moistening the flap and pressing down.
To fry the egg rolls, heat about 1/2 inch of oil in large skillet over medium-high heat. Place the egg rolls, seam side down, a few at a time, turning occasionally and fry until they are golden brown, about 2-3 minutes.
Remove and drain on paper towels.
Serve immediately with leftover cranberry sauce or sriracha, as desired.
Additional Info
Yield: 5 servings
Prep time: 5 minutes
Total time: 40 minutes