Nov 06, 2019
Turkey Enchiladas Verdes and Tomatillo Salsa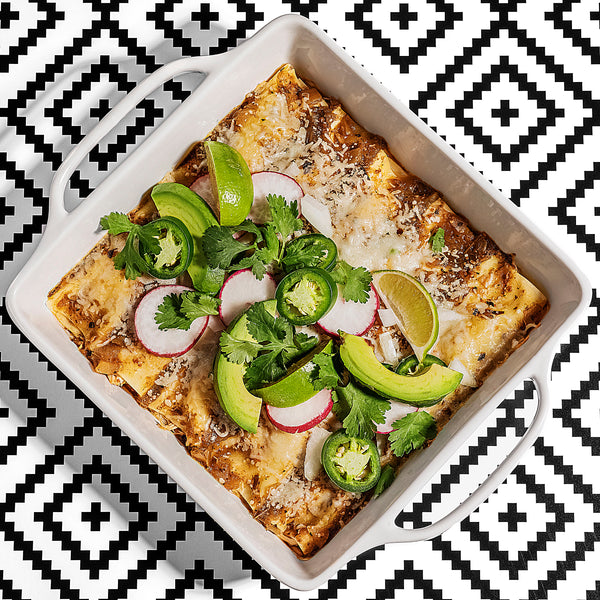 Ingredients
Turkey Enchiladas:
1 package Cappello's Lasagna Sheets, thawed if frozen
1/2 pound cooked turkey breast, shredded
1 teaspoon extra-virgin olive oil
1 tablespoon finely chopped jalapeño
1/4 cup yellow onion, finely chopped
1 garlic clove, minced
1/4 teaspoon sea salt
1/8 teaspoon freshly ground black pepper
1 cup tomatillo salsa, jarred or homemade (recipe below)
½ cup shredded Monterrey Jack cheese
Optional: fresh cilantro, sliced avocado, sliced radishes, sliced jalapeños, sour cream
Tomatillo Salsa:
3/4 cup low-fat milk
1/4 cup chopped fresh cilantro
One 11-ounce can tomatillos, drained
One 4.5-ounce can chopped green chiles, drained
1 teaspoon chopped jalapeño
Instructions
Preheat oven to 350ºF.
In a large skillet, heat olive oil over medium heat. Add onion and jalapeño, and sauté for 3 to 4 minutes. Add garlic and sauté one minute more. Remove from heat and stir in shredded turkey, salt, pepper, and 1/4 cup salsa.
Cut each lasagna sheet in half, so there are two equal rectangles. Brush with water to dampen.
Pour ¼ cup salsa into the bottom of an 8-inch by 8-inch baking pan.
Spoon equal amounts of turkey mixture in the center of each lasagna sheet and roll tightly. Place seam side down in the baking pan. Repeat until all lasagna sheets are used, creating two rows of five rolls in the pan.
Pour remaining salsa evenly on top of the enchiladas. Sprinkle with cheese, cover pan with aluminum foil, and bake 25-30 minutes.
Remove from oven and serve warm with desired toppings.
Tomatillo Salsa: Combine all ingredients in a food processor and blend until smooth.
Additional Info
Yield: 5 servings
Prep time: 10 minutes
Total time: 55 minutes